Ubiquitin signaling in the Mailand group
Research in the Mailand group seeks to understand how signaling processes driven by ubiquitin, SUMO and other post-translational protein modifications (PTMs) orchestrate and regulate cellular stress responses.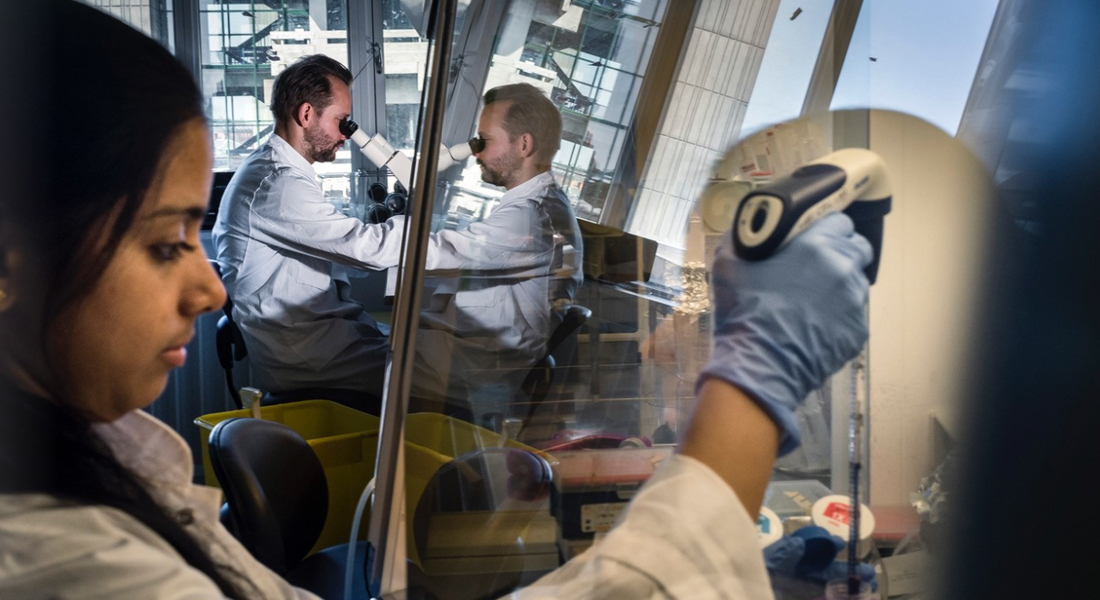 The group combines cutting-edge system-wide proteomics- and CRISPR-based screening approaches with targeted methods within mammalian cell biology, biochemistry and advanced imaging analysis as a powerful platform for discovery and functional exploration of cellular signaling responses that safeguard the integrity and organization of the genome to prevent disease onset.
Our ambition is to broaden the understanding of how cellular signaling processes underpin genome integrity and explore how such knowledge may be translated towards better treatment strategies for human disease, especially cancer. Research in our group identified and functionally characterized an extensive range of novel proteins involved in DNA damage signaling and repair pathways, and they elucidated in mechanistic detail how PTM-driven signaling processes promote genome stability maintenance following genotoxic insults such as DNA double-strand breaks (DSBs), DNA-protein crosslinks (DPCs) and replication stress. Leveraging these discoveries, our recent unpublished work and innovative experimental approaches, we seek to uncover and understand fundamental principles and roles of cellular signaling processes. To achieve these goals, we are employing a multifaceted approach involving a broad suite of powerful complementary methodologies that draws on our own expertise, local and international collaboration partners, as well as state-of-the-art technology platforms at CPR.
Most of our ongoing studies can be grouped into the following complementary research themes:
Identification and targeted exploration of genome maintenance factors: We are extending our long-standing track record in discovering novel proteins and signaling processes functioning broadly in the context of genome stability maintenance, cellular stress responses and chromatin biology. For this, we apply proteomics- and CRISPR-Cas9-based screening approaches as a discovery tool for new components of these processes and use a broad panel of targeted methodologies (cell and molecular biology, biochemistry, advanced microscopy and imaging, etc.) to delineate their functions and mechanisms of action.
Delineating essential functions of ubiquitin- and SUMO-mediated signaling in cell biology: Combining CRISPR-Cas9 screening, proteomics and targeted mechanistic studies, we are pursuing ambitious objectives to address fundamental questions on the key functions of regulatory signaling processes mediated by linkage-specific ubiquitylation, SUMOylation and other PTMs in genome stability maintenance and cell biology at large.
Protease-based mechanisms in genome stability maintenance and cellular fitness: We are expanding our recent findings on how nuclear proteases are involved in DNA-protein crosslink repair and other processes linked to genome integrity, health and disease.
We frequently have new openings for motivated postdocs and PhD students to join the group. Please contact Prof. Niels Mailand (niels.mailand@cpr.ku.dk) to inquire about current opportunities.