15 November 2018
A successful ENABLE week
The 2nd European PhD and postdoc symposium ENABLE, hosted on 7th-9th of November in Copenhagen, was a big success. Four European institutes (CPR - Copenhagen, IRB Barcelona, RIMLS - Nijmegen and SEMM - Milan), that were awarded a competitive Horizon 2020 grant, organised for the second time this unique event.




Fully booked outreach events
As part of the scope of the grant from the European Union, the ENABLE symposium was preceded in the same week with outreach events at all levels. ENABLE under the lead of this year's host, the Novo Nordisk Foundation Center for Protein Research (CPR) at the University of Copenhagen, organised a cross-disciplinary event (Truth in the Age of Information), an Ask-the-Scientist session (about organ donation and research), and "Listen, Think & Drink" scientific microtalk events at four Copenhagen bars.

Both the "Truth in the Age of Information" and the "Ask the Scientist" events were fully booked in advance with people on waiting lists. The "Truth in the Age of Information" discussion was centered around scientific dilemmas in the world of academia, including replication of results, misconduct of research and science communication to society. A strong example of the latter being the misguided association between HPV vaccination and POTS (postural orthostatic tachycardia syndrome), or chronic tiredness syndrome. Emotions were high when organ donation and how we should handle talking about death was discussed at the Ask-the-Scientist event. The audience was heavily involved in the discussion asking questions to the panel and giving personal accounts on the topic.  

The scientific short talks at the four Copenhagen bars were open to all and many places were quickly filled up.

"It was fantastic to see so many people showing up. But there was not enough space for everyone so we tried to redirect people to the other bars. But I heard they also got filled up," says Ufuk Kirik, ENABLE organizer attending the microtalks at BRUS.

"We were happy to see the huge interest of people that had come to listen to the research that our ENABLE symposium participants are doing, while enjoying a beer! There was a good mix of non-scientists and researchers from the ENABLE symposium," says Ufuk Kirik.

"We got some really good questions from the audience – some clearly scientists themselves, but also questions from curious non-researchers – that was really fun to experience," says PhD student Isabella Friis Jørgensen who presented her work at Kølster's Tolv Haner.




BRUS - micro-talk audience

Visits by school pupils
Primary and high school children were also invited to CPR to get to know a little more about research. For the 3rd grade students, a team of volunteers from CPR and the Faculty of Health and Medical Sciences gave the curious and excited 8-9 year olds an insight into what this thing called DNA is and what it can be used for – for example to see if a patient has a mutation causing his/her disease.

"The activity was well thought-through. The students felt seen and well helped along the way, very adequate time was allowed to answer all of their individual questions," said Gertrud Brandt, school teacher for one of the third grade classes.

The older students got to do some hands-on exercise in detecting proteins and had the possibility to see the labs and mass spectrometry machines.

"We really enjoyed visiting you [CPR] and my class was very impressed with your facilities and many mentioned that they thoroughly enjoyed the chance to talk to real working scientists," said Christina Høier Ricke, teacher of one of the high school classes visiting.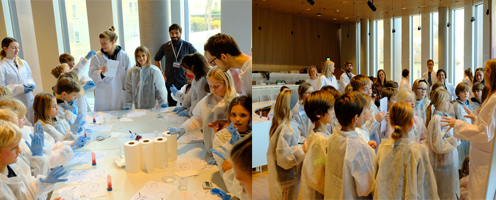 Outreach event for 3rd grade students

"A career in academia is 99% frustration. It is like that for everyone. You are not alone."
Said by CPR Director Jiri Lukas at one of his career chats of the 1st day of the symposium, which was devoted to career developing activities. Jiri preceded to give advice about how to handle these frustrations and how to achieve an academic career e.g. finding the right mentor. Doing research is not always easy – especially if you are a young researcher and doubting what should be the next career move or whether or not you have the skills to pursue your dreams. Therefore, the symposium started with a busy career day, which included workshops about a variety of topics such as science communication, transferable skills, scientific writing and how to move from lab to a business with your own start-up. Furthermore, career chats with professionals from different disciplines like academia, business, patent offices and consultancies inspired young scientists and show-cased opportunities for future career perspectives.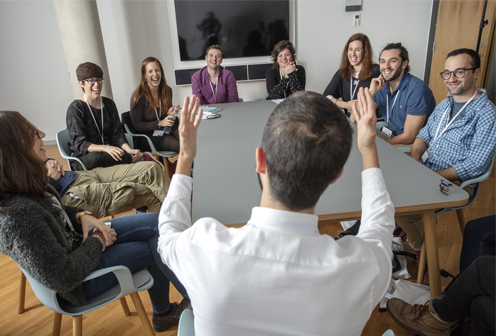 Career chat session

Scientific symposium:
The scientific part of the symposium, entitled: "The Promise of Future Medicine: From Research to Therapy", featured 8 keynote speakers from different fields of research such as drug discovery, gene therapy, systems vaccinology, infectious diseases and proteomics. In addition, young scientists could present their latest work during the symposium through short talks or poster sessions with the chance to win nice prizes.

"ENABLE offers scientific talks that give an overview of amazing discoveries from different fields and inspiring stories of where hard work can lead. The ENABLE career day and outreach activities gave us a chance to interact with companies and the public, which gave me a new perspective on the role of scientists and science in society," said ENABLE participant and best poster prize winner, Meeli Mullari.

"My personal highlight besides the fantastic scientific program was all the networking opportunities like the Nordik Tapas Night or the microtalks at several bars in Copenhagen," said ENABLE participant and best short-talk winner, Fabian Coscia.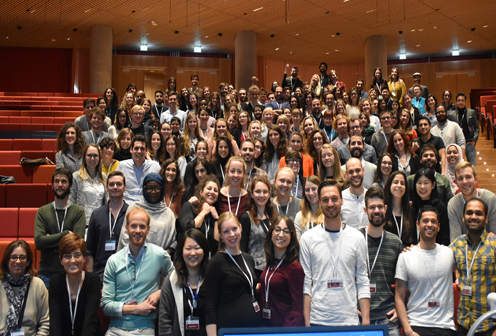 ENABLE group picture

Next year, the 3rd ENABLE symposium will take place 13-15 November 2019 in Nijmegen, the Netherlands. Any news related to this can be followed on ENABLEs homepage, twitter, Facebook or LinkedIn accounts.



Truth in the Age of Information:

A debate headed by science journalist Lone Frank on how journalists and researchers should navigate in a post-factual world with concepts like fake news. The panel consisted of Professor Nils Billestrup, Professor Kjeld Møller Pedersen and Editorial Director of Inland Affairs at Politiken Amalie Kestler.

Spørg Forskeren/Ask the Scientist:

The topic was organ donation and political challenges in this area. Here, the debate was headed by TV doctor Peter Geisling. Doctor Saddiq Qazi, Anthropologist Anja Bornø Jensen, Member of Parliament Liselotte Blixt (Danish People's Party) and Professor Palle Serup joined him as members of the panel.

Microtalks:

Opportunity to enjoy a delicious beer in one of the four best beer bars in Nørrebro, Copenhagen, where four young, international researchers at each bar gave a 10-minute presentation of their research. Each presentation was followed by a Q&A session. The four bars were: BRUS, Kølster Tolv Haner, Ølsnedkeren and Sorte Firkant

About ENABLE:

EuropeaN Academy for BiomedicaL SciencE (ENABLE) is a project coordinated by the Institute for Research in Biomedicine (IRB Barcelona) that was awarded 500.000 Euros within the area Science with and for Society, "Celebrating European Science", of the European Union's Horizon 2020 program. The following European centers participate in ENABLE: the Novo Nordisk Foundation Center for Protein Research (CPR) in Copenhagen, Denmark, the Institute for Research in Biomedicine (IRB Barcelona), Spain, the Radboud Institute for Molecular Life Sciences (RIMLS) in Nijmegen, Netherlands and the Scuola Europea di Medicina Molecolare (SEMM) in Milan, Italy. The Madrid-based science communication company, Scienseed is a fifth partner of ENABLE.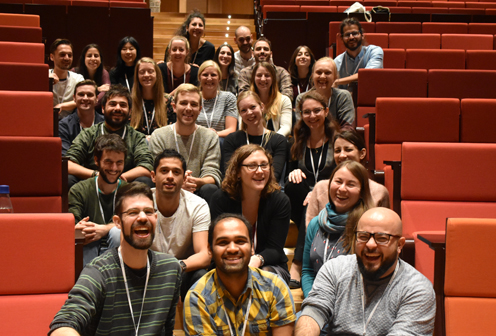 ENABLE 2018 organizers