03 March 2016
Associate professor Julien Duxin appointed junior group leader in the Protein Signaling Program at Novo Nordisk Foundation Center for Protein Research (CPR)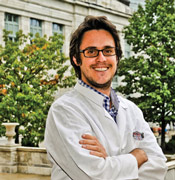 We are delighted to announce that after a rigorous evaluation of a number of competitive applications to an open international call, we have appointed Julien Duxin, PhD as new junior group leader at CPR.
From August 1st, 2016, Julien will join Niels Mailand, Jakob Nilsson, Jeremy Daniel and Jiri Lukas (the current principal investigators in the Protein Signaling Program) with his new group (Duxin Group - Mechanisms of DNA repair & DNA replication), which will focus on protein pathways that protect the integrity of human genomes against metabolic assaults that generate DNA-protein crosslinks.
Julien is arriving to Copenhagen after a stellar postdoc at Harvard Medical School where he, in the group headed by Johannes Walter, made seminal discoveries including the first reconstitution of a biochemical reaction that recapitulates replication-coupled repair of DNA-protein crosslinks (Duxin et al., Cell 159, 346-357, 2014).
Julien will be appointed as Associate Professor at the Faculty of Health and Medical Sciences, University of Copenhagen, and will start his new group (Duxin Group - Mechanisms of DNA repair & DNA replication) in the Protein Signaling Program at Novo Nordisk Foundation Center for Protein Research on August 1st, 2016.
On the occasion of Julien's appointment, Jiri Lukas, the research director of the Protein Signaling Program and the executive director of Novo Nordisk Foundation Center for Protein Research said:
'We are extremely happy and proud to have attracted Julien -
both because of his truly pioneering work in such an early
stage of his career, and because his truly 'protein-centric'
approach to genome integrity maintenance perfectly fits to
the scientific and methodological scope of our Center.

His talent, scientific insight, and technological expertise are
bound to be a huge asset not just for our Program and CPR,
but for the ever growing and ever more influential Copenhagen
chromosome biology community'.
Please join us in welcoming Julien Duxin to CPR, and as a prelude to his arrival, we present below an excerpt from a short interview he made during the recruitment process with his new colleagues in the Protein Signaling Program.
When did you first hear about CPR and what motivated you to start your independent research at our Center?
I first heard about CPR at a conference where Prof. Niels Mailand presented his research. I immediately felt enthralled with the outstanding quality of research performed at the Center and by the numerous groups working on genome maintenance. I remember thinking immediately "this would be an outstanding place to open up my laboratory," and I even asked my wife if she would envision moving to Denmark. Little did I know it would become real.
What is you main 'scientific dream', what do you wish to solve, and how can CPR help you to reach these goals?
Our cells are continually exposed to reactive compounds that damage their DNA. Defects in repairing such lesions cause a variety of human diseases including cancer and aging. Using a cell-free system derived from Xenopus eggs, which has the remarkable capacity to recapitulate key processes of genome maintenance in a test tube, I hope to unravel some of the basic repair mechanisms that ensure the preservation of our genome to understand how defects in these repair reactions can cause cancer and other diseases.
CPR offers a unique multidisciplinary environment exceptionally suited for protein research. The Center's state-of-the art core facilities and the excellence of its scientists will be quintessential to my future success.
What do you bring to CPR to make us a better and more competitive hub for exploring how proteins feed-back on their genes to keep them stable and the organisms free of disease?
I believe I have an approach to studying genome maintenance that is quite different and nicely supplements what is being done at the Center. Over the years CPR has been at the forefront of protein discovery making several seminal contributions. Bringing the Xenopus cell-free system, I hope to provide the Center with a new avenue to delineate protein function and molecular mechanisms of genome maintenance, and therefore expand the Center's excellence in protein research.