25 February 2016
PhD student Nicolai Jacob Wewer Albrechtsen from the Mann Group awarded Elite Research travel grant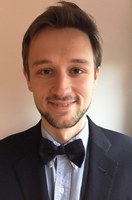 Nicolai Jacob Wewer Albrechtsen, affiliated group member of Professor Matthias Mann's group Clinical Proteomics at Novo Nordisk Foundation Center for Protein Research, has received an Elite Research travel grant of 200,000 DKR from The Ministry of Higher Education and Science.
The Elite Research travel grant will be presented at a special ceremony at the Ny Carlsberg Glyptotek on Thursday, 25 February 2016. The grant is for DKK 200,000.
Learn more about Nicolai and his research in the press release from the Faculty of Health and Medical Sciences: Young talent awarded Elite Research Travel grant
Read more on the homepage of The Ministry og Higher Education and Science.