27 March 2015
Professor Søren Brunak and a new venture with Big Data Medicine at SUND and Rigshospitalet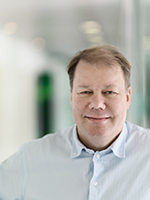 After more than 25 years at the Technical University of Denmark (DTU), the bioinformatician Professor Søren Brunak is taking on a new major position - at Novo Nordisk Foundation Center for Protein Research placed at the Faculty of Health and Medical Sciences, University of Copenhagen. At the same time, he will be affiliated with Rigshospitalet where he will help develop new strategies for utilizing Danish health data, exploiting possibilities to integrate clinical data and molecular screening data to a much greater degree.
"We are very happy to be able to collaborate with Søren Brunak in strengthening both research into and the use of Big Data in the health sector", says Ulla Wewer, Dean at the Faculty of Health and Medical Sciences, University of Copenhagen.
"Søren Brunak has been a pioneer in bioinformatics, and in later years, he has led the development of new approaches to the analyses of data on health and diseases, with a focus on understanding millions of different, individual, disease trajectories in a life-long perspective. In times when populations grow increasingly old, this type of research will point to new possibilities in prevention, diagnostics, treatment and rehabilitation," she adds.
'There are great perspectives in developing collaborations across regions, hospitals and universities. We need to handle and utilize data in new ways, as we attempt to convert data analyses into new and more precise treatment initiatives with fewer side effects," says Jannik Hilsted, Medical Director at Rigshospitalet.
Søren Brunak will continue to heading the Danish node in the new European infrastructure of bioinformatics, ELIXIR, which includes all Danish universities. This work will continue to be coordinated from DTU as it involves supercomputer resources to an ever-increasing degree.
"I look forward to establishing new alliances that will utilize unique Danish health data and create a basis for improved treatments. We work across the entire spectrum of diseases and we are interested in the systematics of complications as well as other disease correlations that manifest over long stretches of time. I also look forward to evolving collaborations within Novo Nordisk Foundation Center for Protein Research, where we have a dream-team of top researchers who are interested in proteins and their significance in disease," says Søren Brunak.
Contact:
Ulla Wewer, Dean, Faculty of Health and Medical Sciences via Head of Communication Anéh Hajdu. aneh.hajdu@sund.ku.dk, mobil: +45 21 22 2692
Søren Brunak, Professor, Program Director, Novo Nordisk Foundation Center for Protein Research. soren.brunak@cpr.ku.dk telephone: +45 20 67 24 77
Lotte Skipper, Communication Consultant, Novo Nordisk Foundation Center for Protein Research. lotte.skipper@cpr.ku.dk, telephone: +45 35 32 50 33