22 November 2013
Professor Niels Mailand wins Silver medal from Royal Danish Academy of Sciences and Letters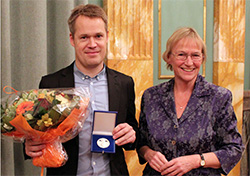 Niels Mailand, Professor at Novo Nordisk Foundation Center for Protein Research has been awarded the Royal Danish Academy of Sciences and Letters' Silver Medal 2013 for his outstanding research on the DNA damage response.

Niels Mailand receives the prize in recognition of his outstanding contribution to the understanding of the DNA damage response, a cellular surveillance system protecting against mutations and genetic damage.

Early on in his career, Niels Mailand became interested in understanding why healthy cells develop into cancer cells. His research has led to the discovery of several new components of the DNA damage response and an improved understanding of the underlying molecular mechanisms. His research has shown that the protein ubiquitin plays a crucial role in preventing healthy cells from mutating into cancer cells.

The Academy additionally emphasizes that Niels Mailand throughout his career has proved to be a convincing, strong and independent researcher.

The Silver medal will be presented by the Minister for Science, Innovation and Higher Education Morten Østergaard, at the 'Royal Danish Academy of Sciences and Letters', 21 November 2013.